Follow Friday is a weekly meme hosted by
Parajunkee
and
Alison @ Alison Can Read
!
This week's question: Name 3 authors that you would love to sit down and spend an hour or a meal with just talking about either their books or get advice on writing from?
A. Hm...do they have to be alive? If not, I'd say Charles Lutwidge Dodgson, otherwise known as
Lewis Carroll
, the author of Alice in Wonderland. What a great book. I think I'd like to ask him what his inspiration was behind the story. Another author (again, deceased, sad) is one
Mr. Theodor Geisel
or Dr. Seuss! Did you know that Seuss is his middle name? Do ya suppose he talks in rhyme? Have you ever tried that? It's not easy. Well, that's two authors, both who wrote in the literary nonsense genre. As for the third...
Suzanne Collins
, author of The Hunger Games trilogy, I think. She's alive, so I have a slightly better chance of meeting her. But only slightly. I loved the Hunger Games, and I'd really love talking with her about how she came up with the concept, and where she started!
This week's featured blogger is: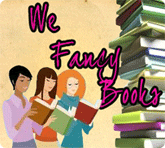 Hop on over and show 'em some love!
Cheers and Happy Reading!