Follow and Feature Friday is a weekly meme hosted by
Parajunkee
and Alison @
Alison Can Read
! Each week we answer a different question so you can get to know your blogger friends a little better!
This week's question:
Do you have a favorite series that you read over and over again? Tell us a bit about it and why you keep on revisiting it?
Answer: I have several! One of which is the Wicked series by Nancy Holder and Debbie Viguie. If you haven't read this series (3 volumes, 5 stories), it's about two families of witches and they have a very Capulet and Montague-esque battle raging. It's actually about a lot more, but if you haven't read it, you should check it out. I've also read and re-read the House of Night books many times. It cracks me up that it's all taking place in Oklahoma. Teeny tiny little inconsequential Oklahoma. (and I say that with love, I went to college in Oklahoma and it holds a special place in my heart). And the Caster Chronicles series by Kami Garcia and Margaret Stohl (Beautiful Creatures, Beautiful Darkness, et al). I have a big crush on Ethan Wate. :) I also love the Phantom Island series by Krissi Dallas. Stay tuned to learn more about this one!
Some recent additions to this list are: The Kane Chronicles by Rick Riordan, Matched (at some point the trilogy) by Ally Condie, and Divergent by Veronica Roth.
I read fast. So sometimes, it seems like I miss stuff. Not major plot points or significant details. But maybe I miss a joke, or a silly detail like what someone was wearing. Not that I miss them, but different things stand out on a second read. So when I re-read books (I read almost all of my books for review twice for exactly this reason) it always seems like there is something new. Like the book has reinvented itself, or changed the tiniest bit, just for me. Always something new to discover. Or something that I don't remember from the previous read, that will stand out to me on another read.
What about y'all?
This week's featured blog is
Obsession With Books
! So check them out and show 'em some follow love, eh?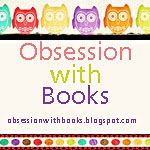 Happy Friday! Cheers and Happy Reading!